Resources
Project Phoenix
Project Phoenix is behind the 'It's not okay' campaign.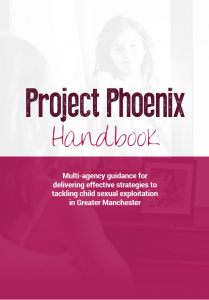 Barnardo's
Barnardo's has lots of web resources dedicated to child sexual exploitation.
Wud U app. An educational tool for teachers and care professionals who interact with young people that might be at risk of sexual exploitation.
Real Love Rocks – resources for schools
College of Policing
The College of Policing guidance is designed to raise awareness of child sexual exploitation matters, increase reporting, disrupt offender activity and increase safeguarding measures to help protect children and young people from being sexually exploited.
Greater Manchester Safeguarding Board
Local Government Association
Media
NHS
National Working Group
The NWG is a Charitable organisation formed as a UK network of over 2500 practitioners who disseminate our information down through their services, to professionals working on the issue of child sexual exploitation (CSE) and trafficking within the UK.
NSPCC
West Yorkshire Police